Hi there!
It's been so inspiring to read about other families' journeys, and the Tripawds community has helped me understand what it really means to have a handicapable fuzzy companion.  So thank you all for your posts and now here's one of my own!
I'd like to extend a HUGE thanks to Amy, Esteban's (the handsome boy who brought me to this site) incredible foster mom.  Before I met Esteban and Amy, I was living with a fabulously adorable beige kitty named Watson (see the picture below).   He's a super cute cuddly fellow who occasionally likes to sneak drinks out of the toilet.  I had had him for just over year, when he started acting like he was getting lonely being the only fuzzy guy in the house. Watson himself is a handicapable kitty—he is blind in one eye and has asthma—but he's never let that stop him from being the best kitty he can be.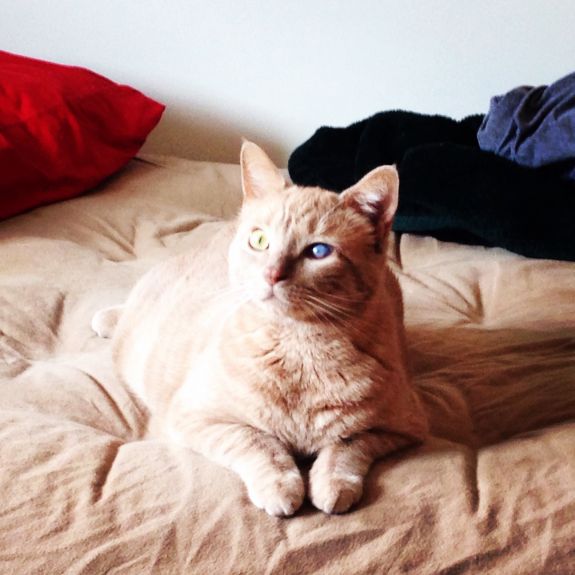 I spent the next few months looking for friends at the local Humane Society.  And then one day I saw Esteban.  He was perfect!  Orange, spunky, charismatic, and oh so handsome. Once I met him I knew he would be the perfect addition to our family.  And he was.  From the moment he arrived in my apartment he made himself at home.  I was amazed at how graceful he was; he was so elegant in the way he moved, effortlessly jumping from one spot to another, strolling about with such dignity.  I think Watson was even a little jealous, Esteban has a much higher vertical leap than Watson and his four short little legs could ever hope for.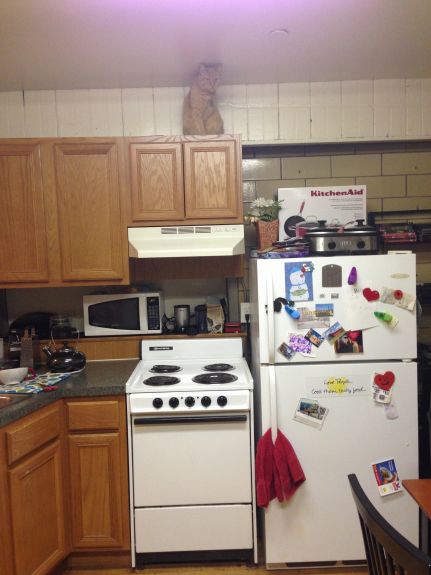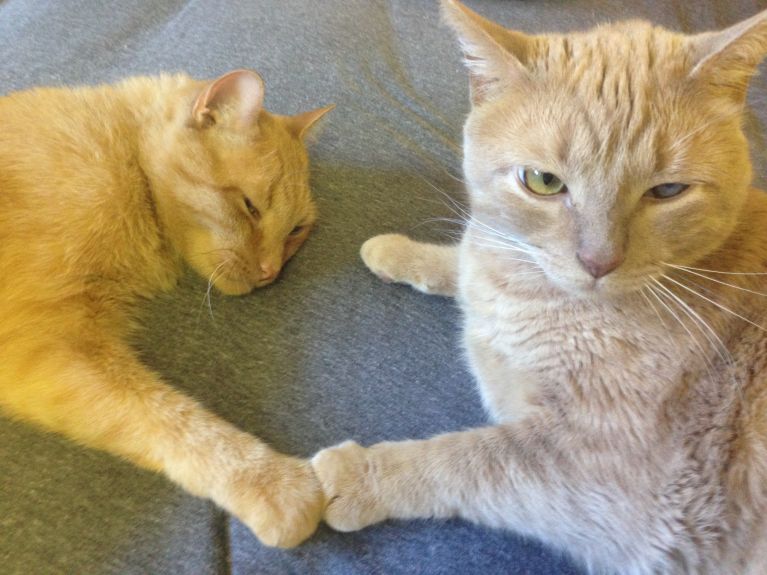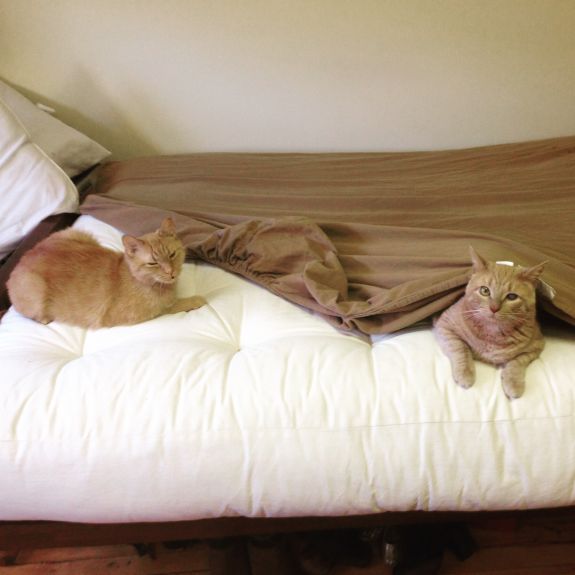 In September of last year we took a trip to my hometown.  I was leaving to study abroad for a few months, and my parents were kind enough to invite the grandkitties into their home while I was away.  Esteban and Watson LOVED their new digs.  Two floors, out in the country with lots of windows, surrounded by all sorts of wildlife, AND a new friend!  My parents have a polydactyl cat named…you guessed it, Polly.  It was an adjustment for all of them, but eventually the cats figured out their own kitty friendship system.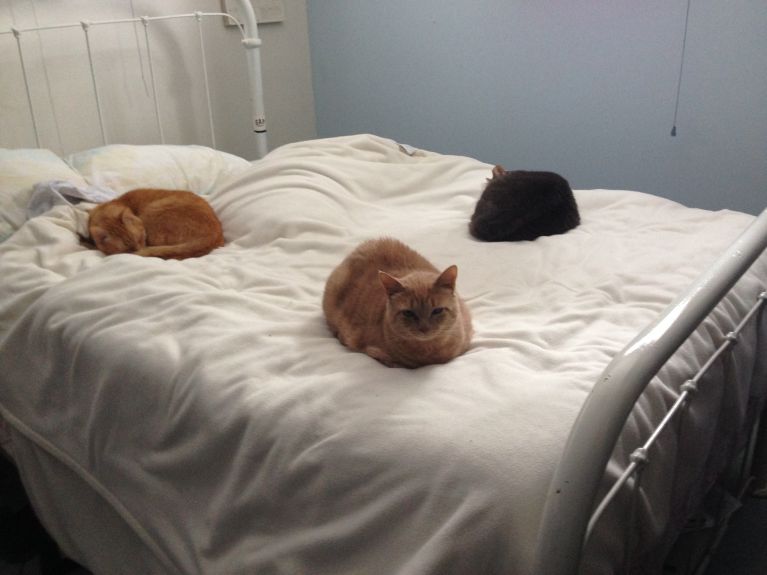 While staying at my parents house Esteban developed two new favorite pastimes.  The first is sitting on the perch in the bedroom, looking out the window and stalking the many turkeys, birds, and squirrels, and other creatures that run around outside.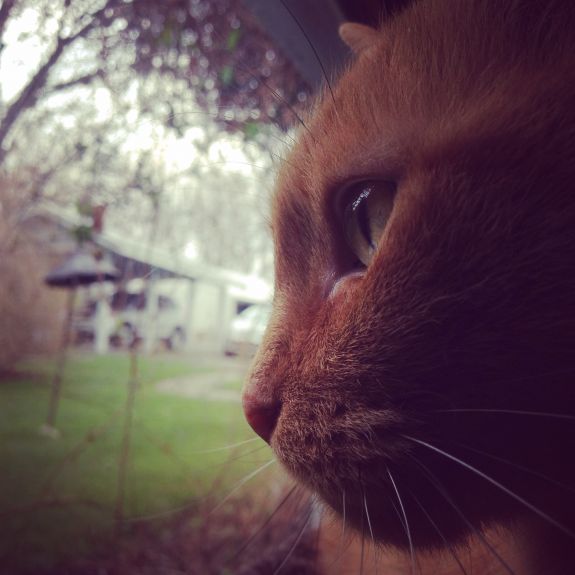 The second is snuggling on people's laps. In my old apartment Esteban sat on my lap a few times, but he mostly preferred to sleep next to me.  I used to think that he didn't like sitting on my lap because he was worried about his balance; he was (and still is) acutely aware of himself in relation to the space around him.  Sitting down on a surface that wasn't flat made it difficult for Esteban to get cozy, and he seemed uncomfortable with the idea that he wouldn't be able to make an easy escape should he deem it necessary.  But over the past few months something changed. The many afternoons Esteban and my mom spent together at the house have given him more confidence in himself and trust in us, his non-fuzzy friends, to provide him a safe place to put his little cat booty.  And now, anytime anyone finds themselves on the couch, they will inevitably find Esteban on there too.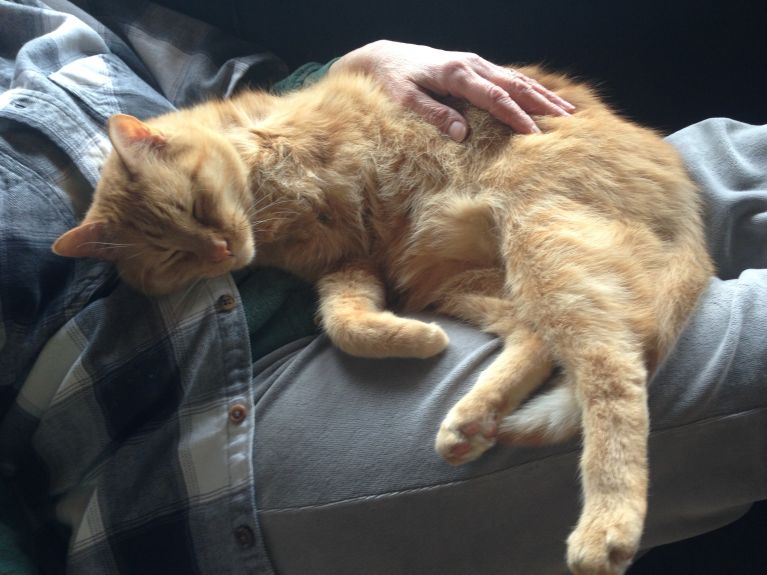 Everyday Esteban amazes me with his poise, his grace, and his determination to not to let his missing limb hold him back from enjoying life.  And right now life seems pretty good.